NEW Mapyx MXMapWeb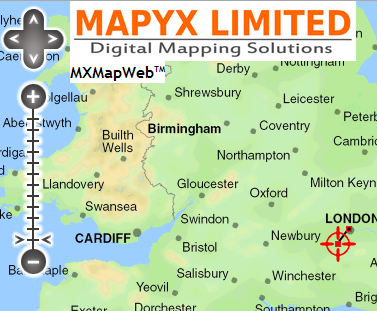 New MXMapWeb™



The New Mapyx MXMap Web™ system is designed to permit the User to view OS mapping at multiple scales on any internet enabled device supporting HTML5, including Mac, iPhone/iPad, Android etc.

The NEW MAPYX MXMapWeb™ solution provides:


View Ordnance Survey Maps via the MXMapWeb™ cross platform portal via internet connection.
View latest Ordnance Survey Mapping at ALL SCALES for FULL GB (Overview, 1:1m, 250k, 50k, 25k, down to 1:10k Streetview Mapping).
View your own position on compatible phones with location service/GPS.
Upload multiple Routes to system.
Positions shown in OS Grids or WGS.
Payable on an as-needed Monthly, 6-Monthly or Annual Subscription.

New MXMapWeb™ Functionality
Log on Screen
Combined Map, Menu & GPS Screen
Latest Ordnance Survey Full GB Multiple Map Layers

| | | |
| --- | --- | --- |
| | | |
| OS Overview 1:1m | OS Miniscale 1:1m | OS 250k Roadmap |
| | | |
| OS 50k Landranger | OS 25k Explorer | OS 10k StreetView |

Show on screen position with suitably enabled location services
GPS Functions

GPS is OFF

The GPS is ON and the

location of the device is

indicated by the symbol

This is the location of the

device provided by the

device and superimposed

onto the map


The GPS is on and the GPS
is LOCKED to screen, so
that the map screen will
refresh to show the GPS
location in the centre of
the map screen. If the
device is moved, the
screen will refresh to
indicate the location of
the device.

Simple to use Menu
Show location in different formats
Show Playback of Routes walked
Upload GPX routes, amend display to suit.

Save Track of route walked
Routes Appear on Map Screen
Easy to use Account maintenance
To order please make your selection below